Former United States poet laureate Dove honored as trailblazer
The U.S. State Department has named Rita Dove, one of America's and the University of Virginia's most celebrated poets, as one of five Black women "trailblazers."
In honor of Black History Month, the State Department's "ShareAmerica" platform is featuring Dove, Henry Hoyns Professor of Creative Writing, alongside artist Amy Sherald, sculptor Simone Leigh, the late singer Ella Fitzgerald and the late author Toni Morrison. They are recognized as female African American trailblazers who "transformed and elevated American culture, leaving their mark on the national – and international – stage."
Through ShareAmerica, managed by the Bureau of Global Public Affairs, the State Department communicates American culture and foreign policy worldwide, sharing "compelling stories and images that spark discussion and debate on important topics like religious freedom, rule of law, economic prosperity, human dignity, and sovereignty," according to the website.
Dove, who joined UVA's Creative Writing faculty in 1989, also will receive a Lifetime Achievement Award on Feb. 20, bestowed by the University of California, Riverside and the Los Angeles Review of Books during the school's 44th annual Writers Week, to be held online. The first African American to be named U.S. poet laureate (from 1993 to '95) and also the youngest at the time, Dove will be honored along with two recent successors as U.S. poets laureate, Juan Felipe Herrera, the first Latin American to hold the honor (2015-17), and Joy Harjo, the current poet laureate and first Native American in this position.
Dove is the only poet to receive both the National Humanities Medal and the National Medal of Arts. She was the second Black writer to win the Pulitzer Prize in poetry (in 1987; Gwendolyn Brooks won it in 1950). Dove also served as Virginia's poet laureate from 2004 to 2006. She received a Lifetime Achievement Award from the Furious Flower Poetry Center at James Madison University in 2014.
She was the first minority person to single-handedly edit a major mainstream anthology, "The Penguin Anthology of 20th Century American Poetry," published in 2011, she said. Her 10th volume, "Collected Poems, 1974-2004," published in 2016, was a finalist for the National Book Award and winner of the NAACP Image Award for Outstanding Literary Work. In addition, Dove has published a novel, a book of short stories, a play that has been produced many times, numerous essays, and songs and texts for musical collaborations.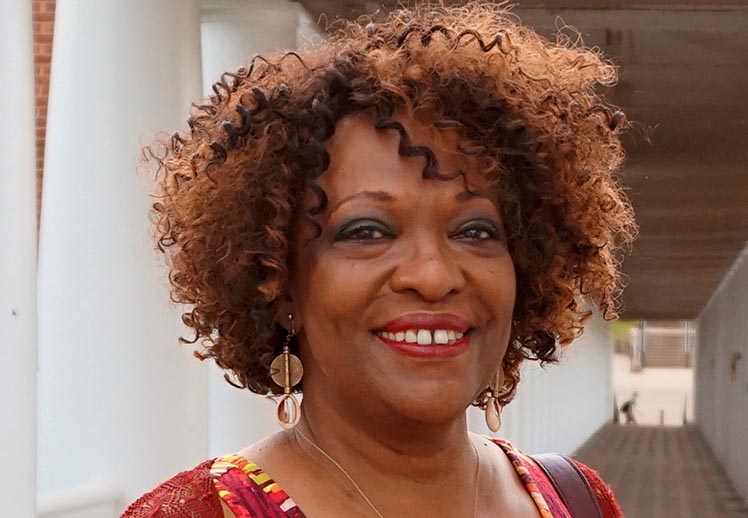 UVA Today asked Dove a few questions about the State Department honor and what she has been up to during the pandemic.
Q. How did you receive this news?
A. Through my daily Google Alerts!
Q. What does being called "a trailblazer" mean to you?
A. I could give a standard answer – someone who breaks through a barrier in the social/gender/political/racial/cultural networks or makes a scientific discovery. But when I hear the word "trailblazer" applied to me, the first image that pops into my head is one of the 8-year-old me on my new bike, all dusty and busted up – my shins wore scabs that entire summer, but I'm smiling. In other words, pedaling hard, falling off but jumping back on because the exhilaration of getting it right is worth momentary pain and some possible residual scarring.
I know I've achieved some firsts – and seconds – along the way. … [I was] one of the few female poets of color who, in the 1980s and '90s, asserted herself in the American literary canon, which was a trailblazing feat for sure.
Q. Does this honor entail any kind of (virtual?) event or prize or memento of recognition?
A. No. As I understand it, the U.S. State Department's "ShareAmerica" publications are meant for foreign distribution and go to all U.S. posts abroad (embassies, consulates, etc.), which then distribute them further in their host countries as they see fit.
Q. What have you been working on lately?
A. Proofreading my new book, "Playlist for the Apocalypse" [due out this summer]. (Some poems from the collection have recently appeared or are about to appear in magazines like The New Yorker, The Paris Review, The Kenyon Review and The American Poetry Review.)
An expansive 14-part podcast series with the Akron Symphony Orchestra takes my 2009 poetry book "Sonata Mulattica" as its springboard. It premiered in December and is about to wrap up this month.
Filming a video special for a May performance of Beethoven's "Bridgetower Sonata" (formerly known as the Kreutzer Sonata) by the Orchestra of St. Luke's in New York City has been on my calendar since last summer, but is delayed [pending getting the COVID vaccine]. Anne E. Bromley, anneb@virginia.edu /newsvirgina.edu
Main Photo: Rita Dove, /Literary Arts