Henry Ossawa Tanner a brilliant and acclaimed African American Painter
By Dag Walker
Where I grew up in a small town in the Rocky Mountains a few years after the end of World War Two, there were no bookstores, no music stores, and no such thing as an art gallery or museum. It was a fine life for a boy, a life of fishing and mountain climbing and fist fighting with the neighborhood bully. There was little of the life of the mind, though, aside from the occasional book to be found, paperbacks, spines broken, pages torn out, coffee cup rings on pages, and random telephone numbers or grocery lists scrawled over the pages. Nearly every book I found in my early years was an account from a prisoner of war. It's clear now that someone suffered badly. I, however, was happy to read anything I could find, even woeful tales of torture and horror.
School offered little in the way of intellectual stimulation, worse as I grew older; and finally so restrictive that I found myself many a weekday morning as the sun rose standing on the ramp at the edge of the highway hitch-hiking a ride to the nearest city, one state over, to visit the library there. There, and somehow, I became interested, at the age of 14, in a German philosopher by the name of Carl Leibniz. His books were stranger than death camps in Japan. Philosophy was crazier than science fiction. Of course, I loved it. 
Even so, I sometimes needed a break during those long days out of town. That would send me to the music room for a vinyl record to play, headphones on, and me in love with stirring music I had never dreamed could exist. One record in particular appealed to me, a long-haired hippy on the cover, the music from heaven. That first time, so enraptured by the sound, I took the record and its cardboard cover and hid it behind a library room sofa so to be sure it would be available when I returned next time. Finally, as it had to be, a librarian caught me hiding my treasure, and she said, "You know, Josef Hayen wrote other music. You might like Beethovan as well. And Chopin. Debussy." 
It was only a few years later that, far too soon, far too young, I began what has been a lifetime of wandering, war zones to libraries to catastrophic world events, and art galleries and back again. I remember the first encounter with paintings, New Orleans, when I was still just a boy. 
I didn't have any comic books because my mother, along with all the other young mothers in the town had heard on the raido that comic books were a Satanic plot to destroy America; and so she and all the other concerned women of the town had a bonfire and burnt them all in a study of purtain moral zeal. Not that it saved me for a life of sinful error. The lack of art, though, did leave me astounded as I stood in a tiny private art gallery in New Orleans looking at paintings the likes of which Superman comic books could not compete against. 
The owner approached me, perhaps concerned by my rapt attention to Goya's drawings of "The Horrors of War," something I'd had some experience with recently when two boys in the house I shared with a gang of 20 or so had been murdered. He gently guided me to images of angels and saints, Madonnas and baby Jesus. He showed me around his otherwise empty gallery for the afternoon, and seemed fairly surprised when I returned next day when he opened. He finally tossed me out when he discovered I am colorblind and will never be any kind of art critic. But, the love of art remained. It is thus that sometime over the course of the years and the miles I discovered Henry Ossawa Tanner, American painter. 
Henry Ossawa Tanner was a Black American painter from Pittsburg, Pa., born in 1859. He died in 1937. Tanner's father was a bishop in the African Methodist Episcopal Church, the first independent black denomination in the United States. His mother had been born into slavery in Virginia, but fled via the Underground Railway to safety in Pennsylvania. Tanner studied at Avery College and Western Theological Seminary in Pittsburgh. In 1879 Tanner enrolled at the Pennsylvania Academy of the Fine Arts in Philadelphia, becoming the only black student.1.
When Tanner was 13 he met a man painting at Fairmount Park in Philadelphia.2. He was inspired. His mother gave him money for paint and brushes.3. He pursued art as a career. At art school, Tanner was a favorite of a popular teacher, and he made lasting, life-long friends with some of his fellow students. However, he wrote in his autobiography: 
I was extremely timid and to be made to feel that I was not wanted, although in a place where I had every right to be, even months afterwards caused me sometimes weeks of pain. Every time any one of these disagreeable incidents came into my mind, my heart sank, and I was anew tortured by the thought of what I had endured, almost as much as the incident itself.1.
After a failed business attempt in Atlanta, Georgia, Tanner met  Bishop and Mrs. Joseph Crane Hartzell. They became his art patrons. In 1888, Tanner moved to Highlands, North Carolina for a brief period before returning to Atlanta where he taught drawing for two years. He wanted to study art in Europe, but had no money. "Bishop and Mrs. Hartzell arranged an exhibition of Tanner's works in Cincinnati in the fall of 1890. When no paintings were sold, the Hartzells bought the entire collection. This endowment allowed Tanner to sail for Rome in January 1891. After brief stays in Liverpool and London, Tanner arrived in Paris."2.
Tanner moved to Paris in 1891, and spent the rest of this life there. Tanner met and became friends with many painters of the time in Paris, learning from them, applying their knowledge to his own works; but by 1895 he was creating mostly religious works under  his own influence.
It is at this point that Tanner becomes an important and memorable painter in the history of art. 
When Tanner showed his religious painting at the Paris Salon, he was "discovered" by art critic "Rodman Wanamaker, who offered an all expenses-paid trip for Tanner to the Middle East. Wanamaker felt that any serious painter of biblical scenes needed to see the environment firsthand and that a painter of Tanner's caliber was well worth the investment. Tanner quickly accepted the offer."1. 
He travelled to the Levant, currently Israel, and continued to learn and paint religious themes. He received from the French government one of its highest honors in 1923, when he was appointed Chevalier of the Legion of Honor, the highest national order of merit, and considered this "citation by the French government to be the greatest honor of his illustrious career."[1.
Tanner expressed his interest in painting and humanity with elegant simplicity: "My effort has been to not only put the Biblical incident in the original setting … but at the same time give the human touch ​'which makes the whole world kin' and which ever remains the same."4.
Tanner spent most of his adult life in France, a successful man and an acclaimed artist. 
In 1908 his first one-man exhibition of religious paintings in the United States was held at the American Art Galleries in New York. Two years later, Tanner was elected a member of the National Academy of Design. In 1923 he was made an honorary chevalier of the Order of the Legion of Honor, France's highest honor, and in 1927 he became a full academician of the National Academy of Design, the first African American to receive that honor. In his later years, Tanner was a symbol of hope and inspiration for African-American leaders and young black artists, many of whom visited him in Paris. On May 25, 1937, Tanner died at his home in Paris.2.
"Tanner's Sand Dunes at Sunset, Atlantic City (c. 1885; oil on canvas) hangs in the Green Room at the White House; it is the first painting by an African-American artist to have been purchased for the permanent collection of the White House."1.
Aside from the obvious beauty of Tanner's painting of the Anunciation, what makes this work so stunning  is the look of total skepticism on Mary's face: 'Are you kidding,' she seems to say, 'I'm just an ordinary person from a small place in the middle of nowhere. How can I ever do some great thing?'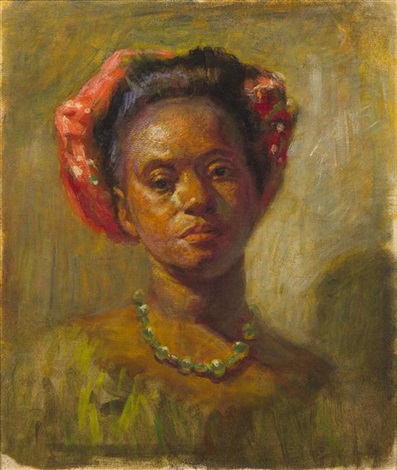 Main Photo: Henry Ossawa Tanner /biograhy.com
__________
Faith Ringgold

,

Henry Ossawa Tanner: His Boyhood Dream Comes True

. Bunker Hill Publishing, Incorporated. 2011. 

Lynda Roscoe Hartigan,

Sharing Traditions: Five Black Artists in Nineteenth-Century America

(Washington D.C., published for National Museum of American Art by the Smithsonian Institution Press, 1985), 106.