WE REMEMBER PRESIDENT TOLBERT
By  Emmanuel Saingbe
William Richard Tolbert was born on May 13, 1913 and brutally assassinated on April 12, 1980 by elements of the Armed Forces of Liberia, AFL, during a successful Coup d'etat. But from all indications, Tolbert was a successful man, except that his successful story did not end successfully; rather, it ended tragically due to the convergence of factors some of which were not actually beyond his control, only that he was not a decisive leader.
In 1971 when President Tubman died in a London Clinic, Vice President Tolbert smoothly ascended to the Presidency of the Republic of Liberia in a constitutional transition that the entire world hailed as an example for a lawless Africa. Unfortunately for Pres. Tolbert, Liberia, along with Africa and the rest of the world, had been undergoing fundamental changes in the decades after World War II that would make governing for him in the old fashion [way] difficult. Major sectors of the country had become accessible by roads and by plane due to the arrival of several iron ore mining companies in the country. These companies had also opened schools in addition to those being opened by the government itself and Christian missionaries.
Moreover, with the spread of education in the country, and road connectivity, there concomitantly arose a universal desire for a meaningful participation in the political Affairs of the country by all the citizens, including native Liberians, benefitting from education made available by the government. It was during this period that concession companies, began to demand inclusion as equal partners in the corporate governance of the country, after having remained mostly quiet in their respective enclaves for decades during the previous administration President Tubman.
Troubling to the government was also the fact that some of these newly educated Liberian natives did not remain untouched by the radical ideology opposed to Capitalism, because of the Propaganda of the Cold War between the Socialist Community of Nations under the leadership of the Soviet Union, and the Western Alliance led by the United States of America. It was in the vortex of this world-wide clamor for ideological and military supremacy by two hostile and powerful forces that greeted Pres. Tolbert, and just at a time also when the first of the political pressure group, MOJA, was founded. And in a very significant way, the birth of MOJA did lead directly to the founding of the Vanguard Student Unification Party, SUP, at the University of Liberia, which proved to be an event that had much impact on University political life and student political life in the country as a whole. The organization of the Progressive Alliance of Liberia, PAL, in 1975 in the United States of America and its eventual arrival in Liberia only futher complicated things in an awakening that took President Tolbert by surprised.
Unfortunately, President Tolbert tried to handle new political challenges using an old and inapplicable methods, and he ended up only making the situation even worse. When MOJA decided to challenge the True Whig Party in the 1978 Monrovia Mayoral Race, with Chuchu Horton representing the TWP, and Dr. Sawyer representing MOJA as an Independent Candidate, Tolbert's response was to postpone the election indefinitely after realizing that Sawyer's victory was a matter of certainty were the election to be held. But in doing so, President Tolbert had inadvertently legitimized the same violence Tubman espoused in Liberian politics. Whereas MOJA, was comprised of well-educated young Liberians, the PAL was comprised basically of ordinary urban young people with very little education and led by Bacchus Matthews.
And whereas the Movement for Justice in Africa or MOJA sought a peaceful transition to a government which would include both well-educated Liberians; PAL was seeking a "Revolutionary Government" of the common people drawn from across the country. The April 14, 1979 Rice Riot was a pivotal point with unease growing against the political elite.
The military officer who replaced Pres. Tolbert, Sergeant Samuel K. Doe, would have been the last man MOJA would have ever thought of as a Presidential material to rule Liberia, for all the reasons that everybody already knows. I once met Pres. Tolbert, as part of a delegation comprising of Dr. Tipoteh, Dr. Sawyer, and Dr. Mary Antoinette Brown Sherman, I was privileged to attend a meeting with President Tolbert in his office in 1978. He had invited us after being told that we, SUSUKUU, were training guerrilla forces in the Putu Forest of Grand Gedeh County to overthrow the government. Instead, we had an agricultural project in Putu. Many years later, everybody now admits that Dr. Tolbert was one the best Presidents of Liberia. But what they do not add is the fact that President Tolbert was also one of the most educated, if not the most educated, President, of Liberia. And the example of Tolbert convincingly proves that to be a successful President of Liberia, one does certainly require a higher and formal education. Higher education gives a leader higher vision for his country and leadership.
The logical question is, if not Tolbert, then who? And putting it in a manageable perspective, we are limiting ourselves to the "modern presidents." I readily agree with those who bestow the honor on Dr. Tolbert for two reasons as one of our best presidents.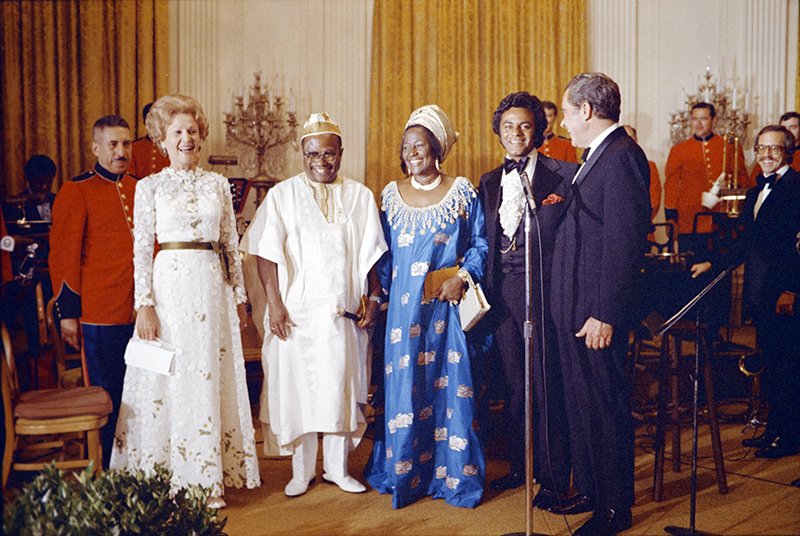 President Tolbert had a vision which he ably succeeded in expressing in pithy slogans that were easily understood and readily remembered. Poverty Reduction became "To Raise From Mat to Mattress." And he used the slogan "Total Involvement for Higher Height" to encompass his entire development agenda, his governing and political philosophy: a wholesome functioning society, also comes to mind. He is perhaps to date the only president whose governing philosophy is there to be perused. For rural road connectivity, he used "Farm to Market Roads."
In terms of actual achievements, they were many and principally intended to have a lasting impact on the economic growth and development of Liberia. The Liberia Free Zone Authority was an industrial park built by the Tolbert administration to promote "import-substitution industries." He enlarged Liberia Airways to become Liberia National Airlines with modern planes to travel to many countries.
And even during the years that Tolbert was President, his industrialization program began to pay off. Instead of importing sugar, Liberia was manufacturing sugar from canes planted in Maryland County. Liberia was also making biscuits, soap, bottles, and many other things that I cannot readily named.
To promote agriculture, his administration set up several cooperative societies around the country. One was the Gbandi Farmer Cooperative Society in Kolahun. He also set up, in collaboration with the UN, the Lofa County Agricultural Development Project, LCADP; the Bong County Agricultural Development Project, BCADP; and the Nimba County Agricultural Development Project, NCADP. And these projects employed thousands of Liberians with good salaries too. Just to name a few. Regrettably, all of these projects were plundered and looted during the first years of Doe's 9 year rule. And these were just a few.
The one thing that set Tolbert apart was VISION! He saw farther than any other modern Liberian President. Therefore, I do agree with those who say Tolbert was one the best Presidents Liberia has had.
Not just anybody, even without proper education, can be a successful President of Liberia, using trial and error method, and making an already bad situation worse, and causing the masses to suffer more, as they are suffering now. May Dr. Tolbert's soul rest in perfect peace on this 106 anniversary of his birth. Dr. Tolbert was a man!
Main pic/Pres. Tolbert/www.pininterest