Angola Says Stolen Assets Worth More Than $24 Billion Estimate
Angolan authorities are likely to unearth far more looting than the current estimate of $24 billion as they deepen their probe into funds that went missing during the previous regime, President Joao Lourenco said in Angola.
"New things are being uncovered," Lourenco said in a state-of-the-nation speech on Thursday. "It's very likely that much bigger numbers will be announced later. This figure alone exceeds the value of Angola's debt to its main creditor," he said, referring to China.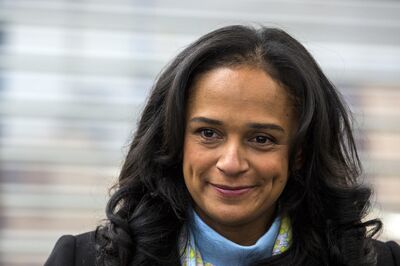 Lourenco, a former defense minister, has vowed to crackdown on corruption since he took the helm of Africa's second-biggest oil producer from Jose Eduardo dos Santos, who stepped down in 2017. Among the targets are his children, daughter Isabel, and son Jose Filomeno.
Isabel, Africa's richest woman, allegedly engaged in irregular transactions with state-owned companies that cost the government more than $5 billion. She denies any wrongdoing. Jose Filomeno was sentenced to five years in prison by a court in Luanda after finding him guilty of taking part in an illegal transfer of $500 million from the central bank to an account in the U.K.
READ MORE ABOUT ANGOLA'S ANTI-CORRUPTION DRIVE
Angola needs those funds as it struggles to recover from a prolonged recession and repay its mounting debt, which is expected to reach 120% of gross domestic product this year. The economy is expected to contract 3.6% this year — the fifth time in as many years — as the coronavirus pandemic and a drop in oil prices weigh on growth, said Lourenco. Crude exports account for almost 90% of the nation's exports.
Angola is trying to diversify its economy and is also in talks with its main creditors to extend some debt payments, said Lourenco. It owes China, its biggest creditor, a total of $20.1 billion, half of which was used to capitalize state-owned oil company Sonangol, Finance Minister Vera Daves de Sousa said on Sept. 18. By Henrique Almeida/Bloomberg