Laffor quits Lone Stars: Chris Wreh is "very much unprofessional."
Monrovia – Former Liberian captain Anthony Laffor has announced that he is leaving the national team because he cannot work with "an unprofessional coach".
Laffor on Sunday, October 13, broke the news on his Facebook page saying he will wait for the old generation of coaches before he can play for Liberia, a statement in reference to deputy coach Christopher Wreh's comment after Lone Star's 3-1 victory over Sierra Leone on September 4, 2019 in Monrovia.
"Sam Johnson is our new Captain. I say it," Wreh had said when he addressed the media at a post-match conference after the 3-1 win over Sierra Leone. "This is a new generation which means the likes of Jebor and Laffor are players of the 'old generation'. It's disgusting and difficult times are ahead as things have gone haywire in a short space of time, too sad. Laffor wrote, "A winner is someone who gets up one more time than he is knocked down.
"Never give up on what you really want to do. The person with big dreams is more powerful than one with all the facts. "I believe in loyalty and respect." Laffor also described Wreh as being "very much unprofessional."
"I don't know where he got his old generation of players and new generation of players from. Leadership is important in any organization. Yesterday, it was Tonia Tisdell; today we are talking about William Jebor.
"Never give up on what you really want to do. The person with big dreams is more powerful than one with all the facts. "I think I need to wait for the old generation coaches until then I'm out of the national team."
Laffor, who is a Mamelodi Sundowns' winger, since making his debut for Liberia in 2003, has scored four goals for Liberia from 46 games. His leaving the national team means two experienced players of the team, will not be part of the team of Lone Star under Peter Butler.
William Jebor opted not to travel with the team for the second leg in Chad due to "illness" but the LFA said he told them he does not want to play for Liberia because he was disrespected by the technical staff. The Football Association has not responded to Laffor's decision. It can be recalled the Butler told Liberians that he wants to build a young team between the ages 17 to 25.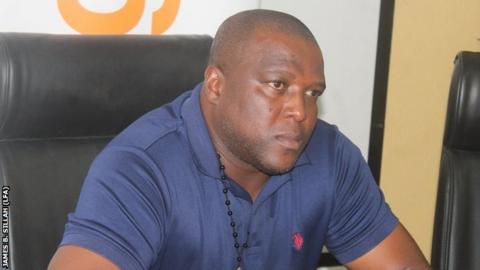 Anthony Snoti Laffor, born 17 February 1985, is a Liberian international footballer, who plays professionally for the South African club Mamelodi Sundowns. Born in Monrovia, Laffor has played club football in Liberia, Ghana and South Africa for LISCR, Ashanti Gold, Jomo Cosmos, Super Sports United and Mamelodi Sundowns.
He made his international debut for Liberia in 2003 and has played in FIFA World Cup qualifying matches. In June 2012, Laffor was expelled from the squad ahead of a 2013 Africa Cup of Nations qualifier. In March 24, 2013, he scored his first goal for Liberia against Uganda at the Samuel Kanyon Doe (SKD) Complex in Paynesville. Laffor has represented Liberia 46 times scoring four goals. culled from the frontpageafricaonline
Main photo: Skipper Anthony laffor, yahoo news
___________
EMAIL:editorliberianlistener@gmail.com